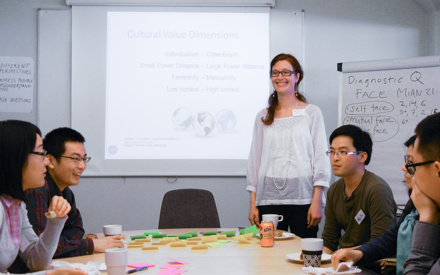 As an expat in Gothenburg, there are many possibilities to meet people in the same situation as you – the Gothenburg Region is internationally oriented. But, after several years of working with expats, we have learned that Swedes are not as open-minded as we think we are. It takes time before we open up - but be patient, once you get to know a Swede, you have a friend for life.
Enhance your intercultural communication skills! Learn more about Swedish management style and Swedish culture - and become more efficient at work. Through interactive, tailormade training and lectures filled with knowledge and humor, participants gain tools and insight in how to interact with Swedes. And, don't worry, "fika" (coffebreak with something sweet) is always included.
Bring the colleagues to a unique conference venue, far away from high-tech solutions, within one hour's drive from central Gothenburg. Why not have your meeting outdoors and cook your meal oven an open fire? We assure you that this will boost creativity and lead to new solutions.
If you have guests arriving at the airport, we will of course arrange transport for them.

A TYPICALLY SWEDISH GETAWAY
Take a break from the busy everyday life in the city, head for the countryside and let us take care of you and your family for a day or two. Explore the beautiful surroundings and try a wide range of activities - from Swedish handicraft to a walk in the forest.
If you need help with transportation, just let us know.